Lego's First Mini-figure With A Disability
In a move that some would say is a little late, Lego has just released it's first ever mini-figure with a disability, after relentless campaigning by equal-rights group Toy Like Me.
The Toy Like Me campaign gained traction last year with over 20,000 signatures – you can read about it in our earlier blog post below. The Lego company was accused of having a lack of diversity in its mini-figures as it had never featured a figurine with a disability. To its credit, Lego has previously included a buildable wheelchair and a Lego Duplo wheelchair, but this will be the first mini-figure Lego wheelchair.
The new mini-figure features a young man in a wheelchair, and comes with an assistance dog as well. The Lego man in a wheelchair will feature as part of the "Lego City Set", and will go on sale later in the year. We here at Sydney Ophthalmic Specialists are secretly hoping the next one will be a child with a white cane or a guide dog. We will be sure to keep you updated!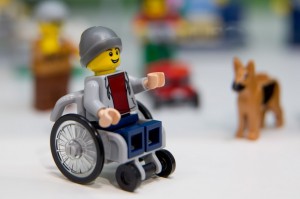 For further information, see the original ABC news article:
http://mobile.abc.net.au/news/2016-01-28/lego-unveils-first-minifigure-in-wheelchair-after-toy-like-me/7122108
The Washington Post article:
https://www.washingtonpost.com/news/morning-mix/wp/2016/01/30/genuine-tears-of-joy-lego-to-release-its-first-ever-figurine-in-a-wheelchair/
You can view the original Toy Like Me campaign and petition here:
https://www.change.org/p/lego-please-positively-represent-disability-in-your-toys