May is Macula Month!
MACULA MONTH
We don't suppose Macular disease awareness is the first thing that springs to mind when you think about the month of May. May is such a nice time of year in Australia; it's Autumn. We enjoy watching leaves turn a beautiful shade of red-brown and begin to softly fall to the ground. There's a crisp coolness in the air but we still get to enjoy gorgeous clear, sunny blue sky days. Parents begin to rug up on the side lines of sporting fields each weekend as they watch their children play.
May is also the month we attempt to raise much needed awareness of Macula disease & ways to detect such diseases – May is MACULA MONTH!
Macula month is an initiative of the Macula Disease Foundation. It is an annual campaign designed to raise awareness of macular disease, which includes common conditions such as diabetic eye disease and macular degeneration, along with lesser known macular conditions.
We use the term Macular disease to cover a range of painless conditions that affect the central retina (the macula) at the back of the eye. It is the leading cause of vision loss and blindness in Australia.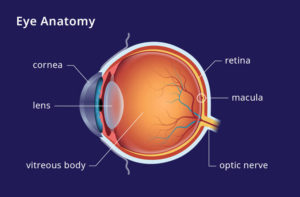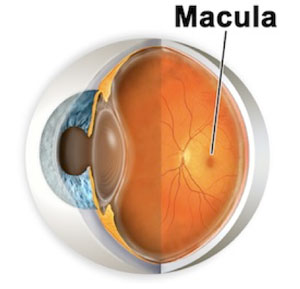 What is the Macula?
To help understand what the macula is, we have included a link to a previous post where we discuss the retina and where the macula is located in our eyes here.
The macula is responsible for our central vision & is located in the central retina. The macula is very important as it gives us the vision needed for detailed activities such as reading and writing, and the ability to appreciate colour. The centre of the macular is called the Fovea, it is about 1.5 mm in diameter and the point of sharpest, most acute visual acuity.
Check my Macula
This year, the Macular Foundation Australia has created a quick one minute quiz to help Australians check their macula. They have devised a very short quiz to assess risk factors. You can have early signs of macular disease without knowing, but early action could help save your sight. We are encouraging all Australians to take the quiz – just 5 questions is all it takes to check your risk factors immediately.  Take the quiz here.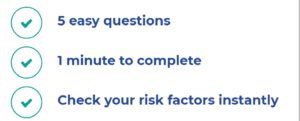 Macula Disease can affect children too
Macular disease can affect anyone, at any age. Below is a list of lesser known macular conditions, including Stargardt Disease and Vitelliform macular dystrophy (Best Disease) which can often appear in childhood due to genetic defects.
Vitelliform Macula Dystrophy, also known as Best disease
Stargardt disease
Central serous chorioretinopathy
Epiretinal membrane, also known as Macular pucker
Macular hole
Macular Telangiectasia
Myopic macular degeneration
Retinal detachment
Retinitis Pigmentosa
Retinal Vein occlusion
Vitreomacular traction syndrome
Posterior vitreous detachment (PVD) and floaters
We will be exploring several of the above conditions over the coming weeks. Join us as we jump on the campaign trail to help spread the word and raise much needed awareness of these often debilitating eye conditions.
References